Available on September 18, 2023
The Highlights for Undated Student Planner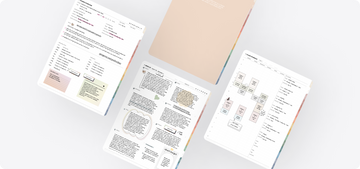 The student planner has been intricately designed to support you in upholding organization throughout your academic experience. It encompasses four semesters, each accommodating nine classes to help you chart your academic trajectory. All months come with six weeks of planning pages.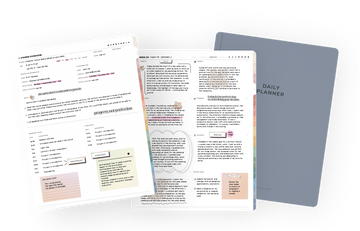 Product Specifications
Introducing our all-in-one ultimate undated student planner, meticulously designed to cater to all your academic needs. With an extensive collection of over 1800 pages, each template has been carefully curated by our experienced product designers to ensure maximum utility and aesthetic appeal. This planner is your perfect companion for a productive and organized school year, helping you stay on top of your studies, goals, and personal growth.
US letter size (8.5 x 11 inches / 22 x 28 centimetres)

Approximately 25 MB - 32 MB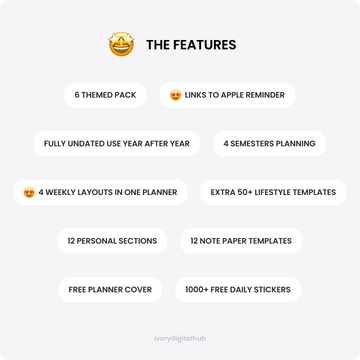 The Undated Student Planner

This planner has been seamlessly integrated with Apple's reminder feature. On both the weekly and daily pages, each day is linked to reminder settings, allowing you to set up notifications and reminders for any day with ease. Stay ahead of your schedule and never miss an important task or appointment with this convenient feature.
6 Themed Pack
Each color variant offers two starting options: Sunday or Monday start, and you have the choice between the fully undated or undated version with month tabs. With this purchase, you'll have access to a grand total of 24 planners, ensuring you can find the perfect combination to suit your planning preferences.
4 weekly layouts
This planner offers a versatile selection of four weekly layouts that you can effortlessly switch between to suit your specific requirements.
Two Version Planners
The first is entirely undated, giving you the flexibility to begin with any month that suits you.
For instance, if you prefer starting from August and ending in July, you can customize your own month titles accordingly.
The second version is an undated planner with pre-inserted month tabs and titles, which follows the traditional calendar year from January to December.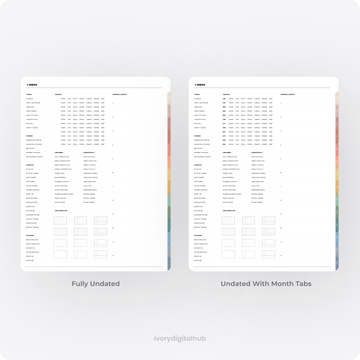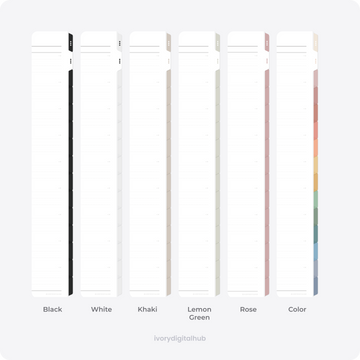 Themed color
Black
White
Khaki
🆕 Lemon Green
🆕 Rose
Color
Academic Templates
The student planner holds up to 9 courses, and each course comes with 11 academic templates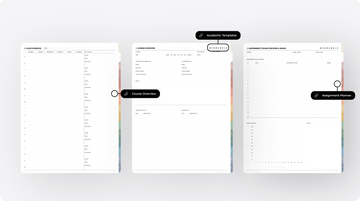 The Weekly Layouts
The planner is available in two different starting formats: Sunday start and Monday start. Both formats feature four different weekly layouts, while the rest of the planner remains the same. The different layouts for both formats are options for you to choose from to find the best layout to suit your needs. The rest of the planner, such as the monthly and yearly views and the note pages, remain the same regardless of which starting format is selected.
Boxed Layout
The boxed layout also includes a mini calendar in the upper left corner for quick access to different weeks and days. However, in this layout, each day of the week is positioned within a box grid.
This layout allows for a clear and organized visual representation of a user's schedule, making it easy to quickly glance at the planner and see what is planned for each day.
The boxed layout is my favorite layout and is for those who like to have a structured and visual schedule.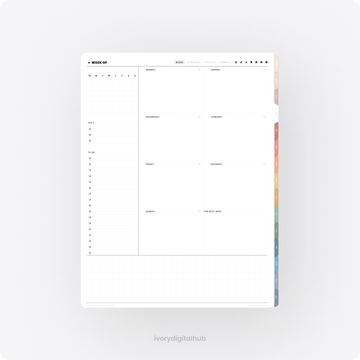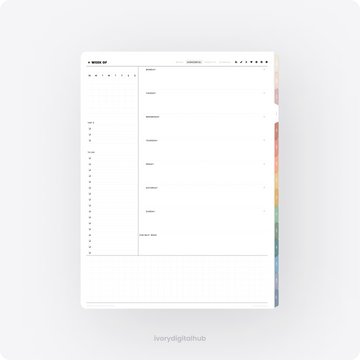 Horizontal Layout
The horizontal layout is a standard layout that has a mini calendar in the upper left corner for quick access to different weeks and days.
Each day of the week is positioned horizontally in this layout, with the date and day of the week labeled at the beginning of the day's section.
The horizontal layout is a popular choice for those who prefer a clear and simple layout, and it's easy to navigate the schedule at a glance.
The Freestyle Layout   
The freestyle layout is specifically tailored for individuals who enjoy expressing their creativity through drawing, engaging in mini journaling, or embracing a minimalist approach to their weekly pages.
This layout provides the perfect canvas for you to unleash your artistic talents, jot down meaningful snippets, or keep things simple and clutter-free. Whether you prefer sketching, doodling, or capturing brief moments in your journal, the freestyle layout offers you the flexibility and freedom to personalize your planner according to your unique preferences.
Embrace this layout and let your imagination run wild as you create a planner that truly reflects your individual style.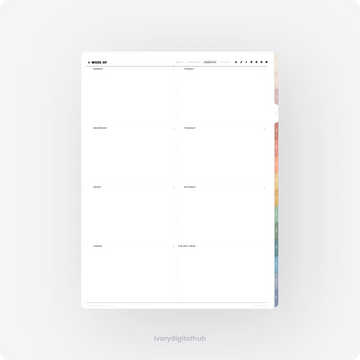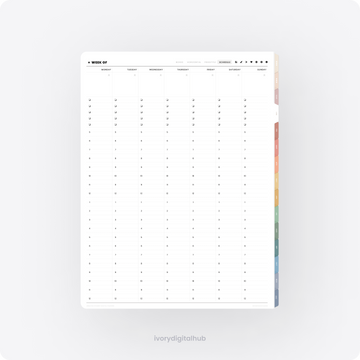 Scheduled Layout
This layout is designed to be intuitive and user-friendly, with an hourly schedule that runs from 5 am to 12 am prominently displayed on the left side. This makes it easy to quickly reference the schedule and plan your week accordingly.
Whether you're a busy professional, a student, or just someone looking to stay organized, this layout has everything you need to stay on top of your schedule and make the most of your time.
What eles?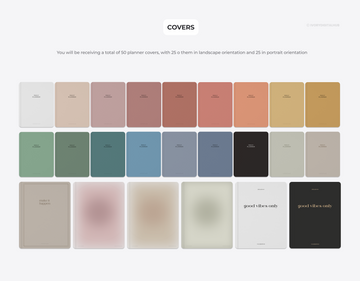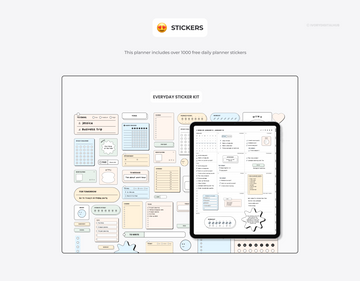 Complete list of templates
Yearly Templates
Undated calendar (6weeks)
Yearly vision board
Yearly plan
Yearly finance
Yearly life goals
A year in the life
Key dates
Year at the glance
Monthly Templates
Monthly calendar
Monthly vision board  
Monthly plan
Monthly goals
Monthly review
Monthly finance tracker
Monthly expense tracker
Monthly habit tracker
Academic Templates
Class schedule *4
Course overview *9 
Assignment overview
Grade tracker
Assignment planner *15
Assigned reading tracker
Chapter review
Project planner
Project budget
Essay planner1
Essay planner2
Study sessions
Course reflection
Finance Templates
Subscription tracker
Saving goal tracker
Debt payoff
No spend challenge
Debt snowball tracker
Nutrition Templates
Weekly meal plan
Monthly meal plan
Grocery list
Kitchen inventory
Recipe log
Food diary
Lifestyle Templates
My 100 list
One page journal
Event planner
Trip planner
Routine planner
Cleaning schedule
Bucket list
Movie watchlist
Show watchlist
Reading list
Book review
Password tracker
Contact tracker
Order tracker
Birthday tracker
Wellbeing Templates
Daily workout plan
Weekly workout plan
Weekly workout log
Monthly workout plan
Fitness goals
Body progress
Progress in photos
30 day challenge
100 day challenge
Running/walking tracker
Period tracker
Mood tracker
Productivity Templates
Daily study plan
Weekly study plan
Weekly to-do list
Simple to-do list
Pomodoro planner
Smart goal setting
Long-term goals
Level 10 life
Eisenhower matrix
Meeting minutes
Project planner 
Project budget
12 Notes Templates
Narrow ruled lined
Lined with the left margin
Cornell lined with summary lined
Grid
Grid with the left margin
Cornell grid with summary grid
Dotted
Dotted with the left margin
Cornell dotted with summary dotted
Blank
Blank with the left margin
Cornell blank with summary blank