2023/2024 Realistic Mid Year Digital Planner - Crumpled Paper
Sale price
$15.99
Regular price
Introducing the 2023-2024 Realistic Mid Year Planner, a digital planner meticulously crafted for use with popular apps like GoodNotes, Notability, and other PDF annotation tools. With its sleek and minimalist design, this planner offers a seamless digital planning experience that enhances organization and productivity.
Designed with a landscape orientation, this digital planner optimizes your iPad's screen space, allowing for easy navigation and effortless planning. The realistic paper texture adds a touch of familiarity and enhances the digital writing experience, providing a sense of writing on traditional paper.
Embracing the convenience of digital technology, this planner offers a range of features to keep you organized and on track. From monthly and weekly layouts to goal-setting sections, task lists, and habit trackers, every aspect is thoughtfully designed to accommodate various planning styles and needs. With the ability to customize and personalize your planner, you can truly make it your own.
Not only does this digital planner offer practicality and versatility, but it also promotes sustainability. By eliminating the need for physical paper and reducing waste, you can contribute to a greener environment.
Whether you're a student juggling assignments and deadlines, a professional managing projects and meetings, or an individual who values a well-organized life, the 2023-2024 Realistic Mid Year Planner is your go-to digital companion. Embrace the power of digital planning and unlock your productivity potential with this exceptional tool.
Experience the seamless integration of technology and organization.
2023/2024 Realistic Mid Year Digital Planner - Crumpled Paper
Sale price
$15.99
Regular price
The Highlights
Introducing the 2023-2024 Realistic Mid Year Planner, designed with a minimalist aesthetic, realistic paper texture, and customizable features. This planner is perfect for students, professionals, and individuals who value organization. With ample space and freedom for drawing, journaling, and more, it caters to those seeking versatility. Experience the perfect blend of style and functionality with the 2023-2024 Realistic Mid Year Planner. Get yours now and unlock a world of creative possibilities.
Just like the real paper planner

Discover the versatility of our planner with its extensive range of features. Enjoy 6 yearly and monthly templates, along with 12 personal sections and 12 note paper templates. Experience the freedom to customize and organize your planner to suit your unique needs. Stay on top of your schedule and maximize productivity with our comprehensive planner.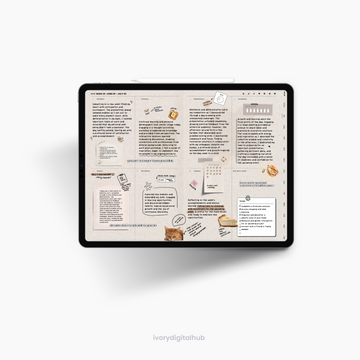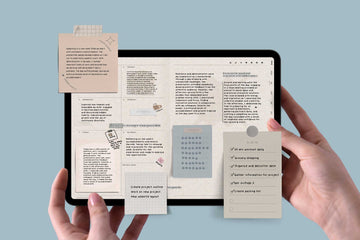 Product Specifications
The templates are designed to be flexible and adaptable to your specific needs and goals, allowing you to tailor your planning and organization to suit your lifestyle and priorities.
US letter size (8.5 x 11 inches / 22 x 28 centimetres)

Approximately 10 MB - 13 MB
The Weekly Layouts
The planner is available in two different starting formats: Sunday start and Monday start.
Both formats feature three different weekly layouts, while the rest of the planner remains the same. The different layouts for both formats are options for you to choose from to find the best layout to suit your needs.
The rest of the planner, such as the monthly and yearly views and the note pages, remain the same regardless of which starting format or weekly layout is selected.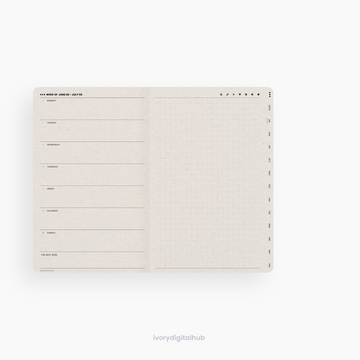 Horizontal Layout
This layout is designed to provide a standard yet effective planning experience. With additional blank space on the right side, you have ample room to map out your week according to your preferences. Each day of the week is positioned horizontally, accompanied by clearly labeled dates and days of the week at the beginning of each section.
The horizontal layout is a favored choice for individuals seeking a clean and straightforward design. It allows for easy navigation of your schedule at a glance, ensuring a seamless planning experience. Embrace the simplicity and clarity of our horizontal layout planner and effortlessly stay on top of your commitments.
🆕 Boxed Layout
The boxed layout is designed to provide you with both extra space and a structured visual schedule. Similar to the horizontal layout, this design offers additional room on the right side of the planner. However, in the boxed layout, each day of the week is neatly positioned within a box grid.
The boxed layout offers a clear and organized representation of your schedule, allowing for quick glances to see what's planned for each day. Its structured format enables you to easily visualize your commitments and appointments. If you prefer a well-defined and visually appealing schedule, the boxed layout is an excellent choice.
Experience the convenience and aesthetic appeal of our boxed layout planner, designed to enhance your planning journey and keep you on track with ease.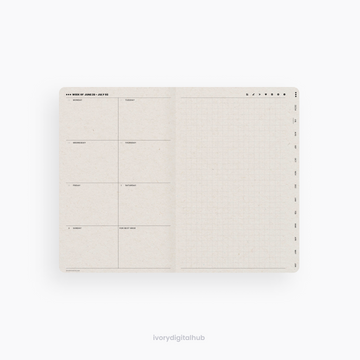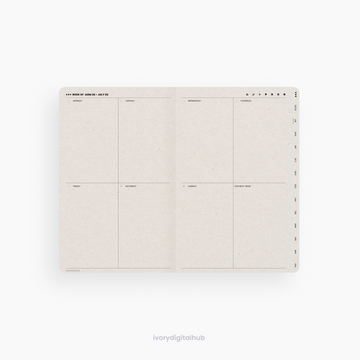 🆕  The Freestyle Layout   
The freestyle layout is specifically tailored for individuals who enjoy expressing their creativity through drawing, engaging in mini journaling, or embracing a minimalist approach to their weekly pages.
This layout provides the perfect canvas for you to unleash your artistic talents, jot down meaningful snippets, or keep things simple and clutter-free. Whether you prefer sketching, doodling, or capturing brief moments in your journal, the freestyle layout offers you the flexibility and freedom to personalize your planner according to your unique preferences.
Embrace this layout and let your imagination run wild as you create a planner that truly reflects your individual style.
What else?
Your purchase also comes with 32 fabric texture planner covers in both landscape and portrait modes. 
And over 1000+ everyday daily sticker kit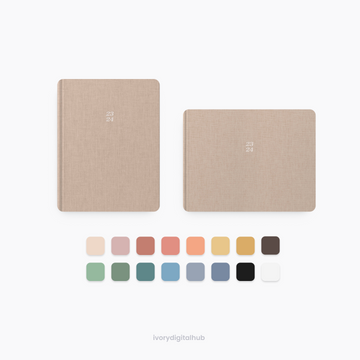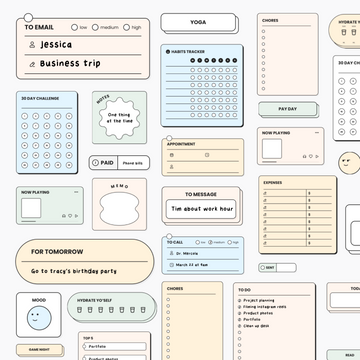 Here is the complete list of templates
Yearly Templates
2023 July -2024 June yearly calendar
🆕 Yearly vision board
Yearly plan
Yearly finance
Yearly life goals
A year in the life
Key dates
Year at the glance
Monthly Templates
Monthly calendar
🆕 Monthly vision board  
Monthly plan
Monthly goals
Monthly review
Monthly finance tracker
Monthly expense tracker
Monthly habit tracker
12 Notes Templates
Narrow ruled lined
Lined with the left margin
Cornell lined with summary lined
Grid
Grid with the left margin
Cornell grid with summary grid
Dotted
Dotted with the left margin
Cornell dotted with summary dotted
Blank
Blank with the left margin
Cornell blank with summary blank
More options
The realistic planner also offers three realistic paper options
kraft, white, and crumpled

Video Walkthrough
Introducing the Realistic Mid-Year Digital Planner:
Embark on an Enhanced Planning Experience